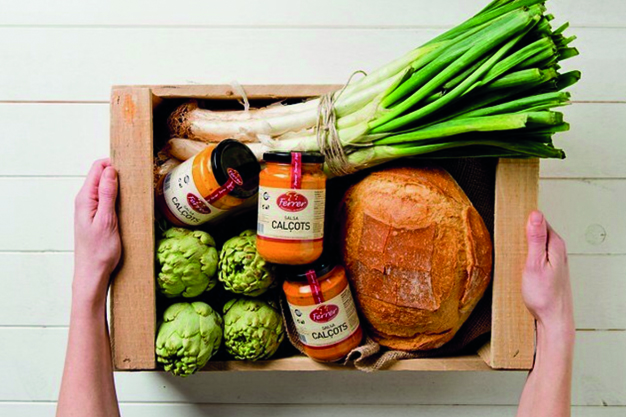 01 Dec

How to cook calçots at home: grilled, roasted, on the electric grill and battered

We all know the traditional way to go about hosting a calçotada: cooking the calçots over a very strong flame, turning them over and letting them finish in their own steam by wrapping them in newspaper. To get that typical taste, the firewood must come from shoots. Nevertheless, what happens when this is not the case? ? Perhaps you will like our response: in this case, you will still be able to continue enjoying this tasty, and really fun, experience..

One day you are at home, you feel like trying out a new recipe, cooking something different that gets the entire family involved. What could be better than a calçotada at home? This is the perfect excuse to spend a fun day eating, getting stained and relishing the sauce. And, apart from being delicious and having many properties that are good for our health, cooking calçots at home is easy and there are many different ways to go about doing it.

How do you cook calçots at home? We suggest the three best options below!
Grilled calçots at home
If you have the space as well as the barbeque equipment, one of the easiest ways to cook your calçots at home will be by grilling grilling them. Firstly, you will have to prepare them (by cutting the leaves and roots of the calçot), then place them very close together and squeeze them into the grill to ensure they are well-cooked and finally, when they are ready (the outer layer will be black and the inner layer will be soft), wrap them in paper and leave them to rest.
▷ Get your Calçotada Pack with Free Shipping. The pack with the most sauce on the market!
Buy Calçotada Pack
Roasted Calçots at home
For those who do not have the option of grilling them, there are other ways of doing so with equally good results. One of those is by roasting them. Just like with grilling, it requires some preparation beforehand: the leaves have to be cleaned, part of the leaves cut off and the root must be removed. Spread them out side by side on a rack and, in this case, place a tray underneath to prevent staining the oven with the water that will be released while they are being cooked. Around 15 minutes at 200°C with air circulating above and below will be enough to ensure that the calçots are ready to be wrapped.
As well as these two ways of hosting a calçotada at home, we would like to add two more, even simpler ways that are within virtually everyone´s reach: calçots cooked on the electric grill and battered calçots..
Calçots cooked on the electric grill
The first step when it comes to cooking calçots on the grill is, yet again, to prepare them well beforehand. Wash them to remove the soil, dry them with a cloth and cut their ends with the roots off as well as the withered leaves.
After turning on and letting the grill heat up, pour a little oil on and start placing the calçots on the grill. This time, spread them one by one (in groups of 3 or 4) depending on the size of the grill. Leave them for about 10-15 minutes, regardless if they turn black.
Next, add a pinch of salt, wrap them in paper and let them rest, so that they can finish cooking.
Battered calçots
Here we can use leftover calçots or prepare them with any of the previous options and then leave them to cool.
Once the calçots are cooked, clean them as if you were going to eat them, cut them into whatever size you want (between 5cm and 10cm) and batter them with egg and breadcrumbs, panko or chickpea flour, depending on the texture sought.
Fry them in very hot olive oil, dry them on absorbent paper to remove the excess and serve them hot with the exclusive Ferrer calçot sauce.
Once the calçots are cooked at home, all that is left is to lay the tablecloth, get the napkins and wet wipes at the ready, serve the authentic Ferrer Calçots Sauce, put on our bibs and gloves and… Get stuck into an authentic calçotada!
Get our Calçotada Pack per a tenir-ho tot llest that has everything you need for an authentic calçotada from the comfort of home.